The Burro of Narberth
Nite Raid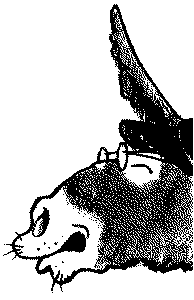 Predator is a word you don't hear much in Narberth. But it sure fits Rite Aid after what they tried to do to our town. I call 'em Nite Raid. Those hot-shot geniuses bought out Shea's Drug Store just to lock it up and shut it down. Force us to climb in the family car and drive clear to Lower Merion every time the arthritis gets to actin up.
I guess Nite Raid figured us poor suckers weren't gonna mind waiting in line for twenty minutes just to hand the prescription to some stranger and be told to come back in a half-hour, especially when we'd have no other choice.
Now I don't know about you, but at my age I need a little medical help more often than I'd care to discuss. I'm kinda used to walking to town and having my prescription filled in just a few minutes, and if I'm lucky, gettin to have a chat with Amy while I wait.
So that makes it extra gratifyin that new drug store coming in where Shea's was. Whatever they call the new place, it'll always be Shea's to the locals. And when we walk in there it's still gonna feel like home, and they're still gonna know our names, and if we're lucky, we're still gonna get to chat with Amy while we wait.
---
Oct.7, 1998
---